Common Answers and Questions
Take the time to read our F.A.Q. section. In case you want to contact directly you may do from our Contact Us form.
I DONT have a Pay Pal AccountPaying at PayPal without a PayPal account
Payments for Wild Bikers Motorcycles are made at PayPal, but you do not need to own a PayPal account to pay: you may enter your credit card's data directly at PayPal and complete your payment. You don't need to register a PayPal account neither.
Once you get redirected to PayPal, just do as follows:
Make sure the "Don't have a PayPal account?" option is selected
If your PayPal page looks as follows, just click on "Don't have a PayPal account?".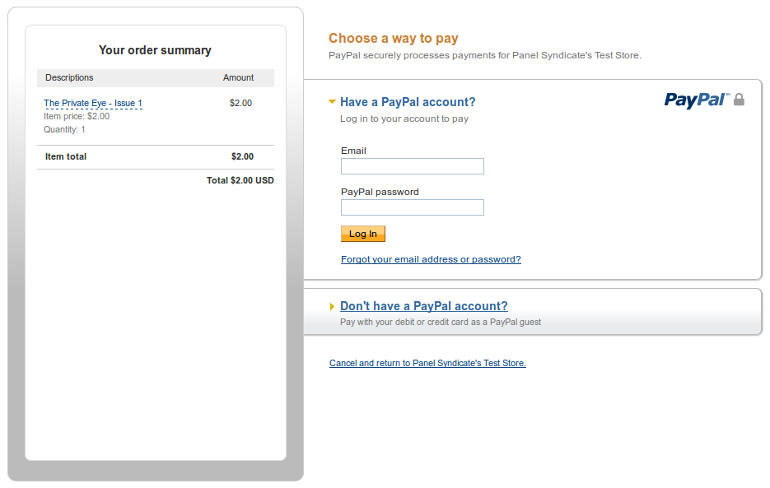 Enter your credit card's data
Address, email & phone number may also be requested depending on your country.
When you are done, click on "Review and Continue".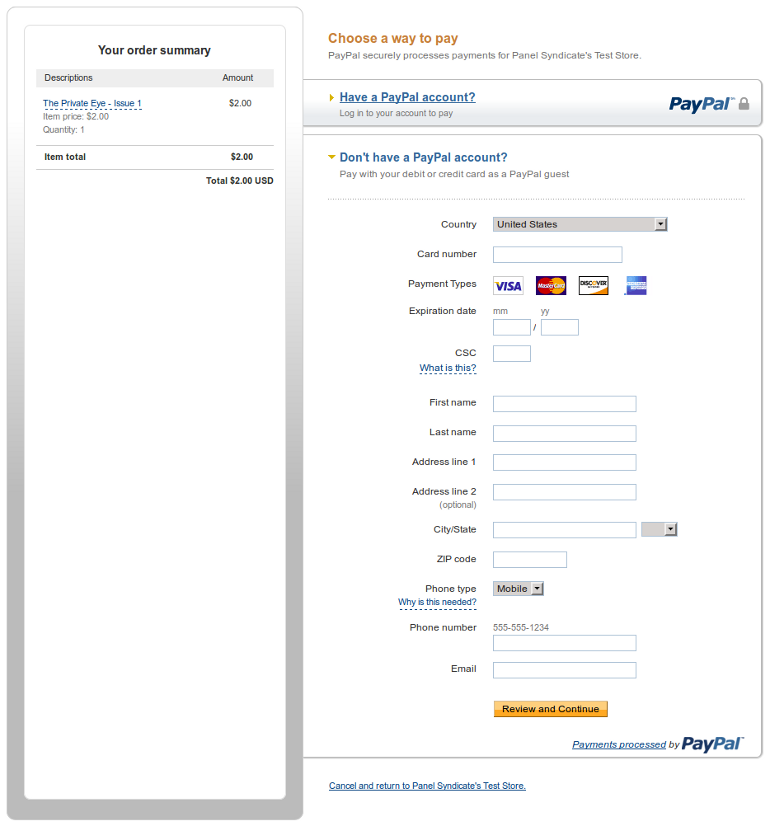 Click on "Pay Now"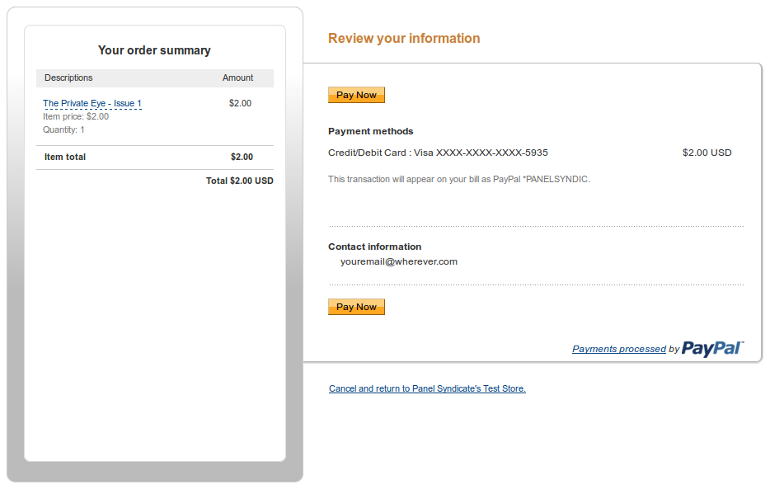 Click on "No, Thanks"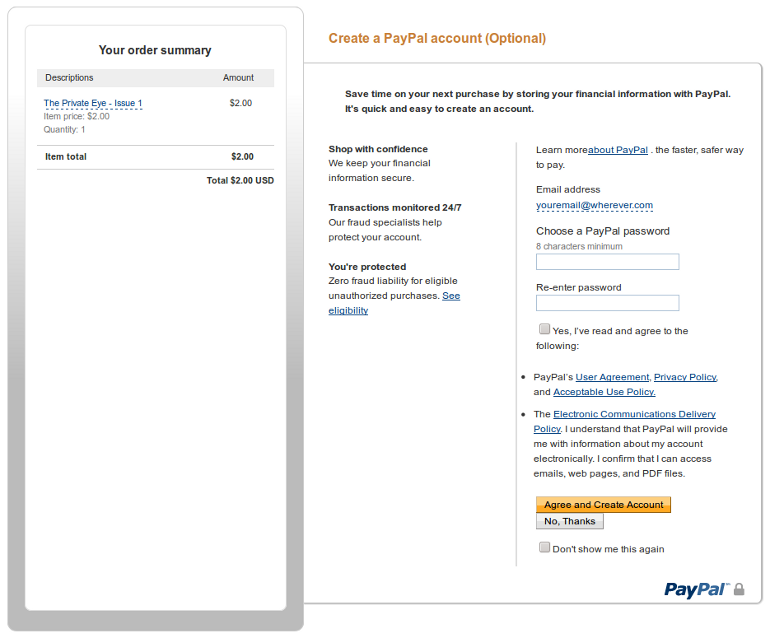 Finally, Click PAY NOW
You will then be redirected back to Wild Bikers Motorcycles.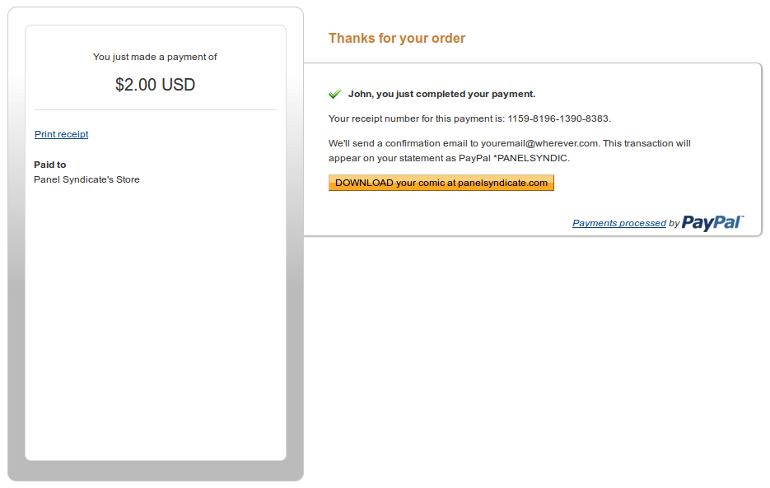 DONE!
Troubleshooting PayPal payments
Depending on a number of factors you could run into problems when paying at PayPal. Some common issues are:
I am not getting redirected to PayPal at all

Your browser's PayPal cookies might be messed up; you may try deleting your cookies to fix this.

PayPal is not accepting my credit card

Please double check the data you entered at PayPal's form. If everything is correct, chances are that you actually do own a PayPal account and that your credit card is associated with that PayPal account. If this is the case, then you will only be able to pay with that card by logging into your PayPal account. If this is too much trouble, then just try paying with a different credit card.

I can't find a "Don't have a PayPal account?" option

Unfortunately, PayPal does not allow direct credit card payments in all cases. Sometimes it is because of your location, or sometimes PayPal might believe by checking your browser's cookies that you actually own a PayPal account. You might try deleting your cookies to get around this.
Free Shipping, What does that mean?
For all orders - Shipping is FREE for all orders totally over $199.00. The orders can not be combined but must be submitted in one order to take advantage of this deal...


What are your Shipping Methods?
We Typically Ship USPS Flat Rate - If you need a part sooner or faster, Please contact us in advance of ordering.


Free Shipping, What does that mean?
For all orders - Shipping is FREE for all orders totally over $199.00. The orders can not be combined but must be submitted in one order to take advantage of this deal...


What is Your Refund Policy?
Many of our parts are Custom Made to Order (Hence our CUSTOM MADE IN THe USA THEME HERE) Every product may have different policies in regards to refunds, Wheels - Rake Kits - Custom Parts are not refundabale in regards to simply returning them because you don't need or want it. If the product is defective - Wild Bikers will make it right! Each and every Manufacturer has a different Warranty/Refund Policy which Wild Bikers adheres too. Please review our Warranty page here: Warranty Information to find out what the policy is for each manufacturer. Contact us here if you request a Return Authorization Contact Us!


How fast do you ship?
Many Parts are in stock and we do list the estimated ship time on the product page. Many items are listed as "CUSTOM" and vary throughout the year. Please call in advance for those parts. On occasion, we do make a mistake, if a part is not in stock as listed, we will inform you immediately to allow you to decide to wait or cancel your order. Any question, please call us first. Delivery days include only working business days, holidays, weekends and other factors (weather and natural events) may delay your shipment. Orders received on a weekend typically will not be processed until the next working weekday...


I am out of Beer, what do I do?
We at Wild Bikers can not provide additional beer. We are sorry but we can barely keep our refrigerator stocked let alone yours...


What payment methods do you support?
We accept all major Credit Cards via PAY PAL, the safest Online payment method. We can also take your order over the phone on occasion, please call us if you are having problems or need to order over the phone...


Do you install and service?
Wild Bikers installs all the parts they sell. If you desire this service, please contact us in advance to schedule an appointment. Our Shop is located in New Jersey...


Do you Ship International?
At this time we do NOT typically ship internationally, only US, US Territories and Canada, additional charges for Canada apply and vary greatly. But we have on occasion; Please contact us so that we can quote an overseas order in advance...


What is your Price Guarantee?
Wild Bikers has the lowest prices on the web GUARANTED) for our parts - please see our Price Guarntee page here for more information: PRICE GUARANTEE


Do you do Group Sales?
Yes we do occasion. Sometimes with a new upcoming part or if you have alot of friends who want the same part. Please contact us if interested in a Group Sale. Details would be different for every part and quantity...


end faq
To change the parameters of the F.A.Q please edit this plugin on your joomla administrator Content - AccordionFAQ